Access control
Our electronic access control security systems give you the ability to manage the flow of people into, around and out of your buildings to help protect premises and staff.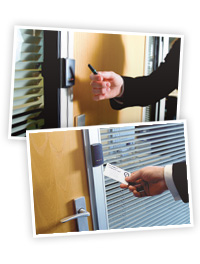 Access control main functions are to:
Replace mechanical keys which when lost, stolen or copied result in expensive lock replacements
Monitor the locations of individuals within a building
Control where individuals are able to gain access
Manage individual user permissions to ensure access is granted to the right people, and the right areas, at the right time.
Choose from Door Entry, Networked or Stand Alone – contact us for your specific requirements.
Systems can be stand alone or fully networked to provide a bespoke solution to cover external and internal access points. Customise your system by using proximity card or key fob technology to enable/disable certain zones and add back office software functionality to allow full control. Already have proximity cards? we can sometimes use existing card/reader technologies to integrate with your existing system.
Uses
Ideal for all doors, gates and barriers – in retail, offices, factories, warehouses, membership clubs etc
How the technology works
Presenting the proximity card (credit card size) or Key fob within 10cm (4") of the slim line reader, automatically verifies the unique code contained in the card and opens the door if access is allowed for the individual. The system is contactless making it durable because the card and reader are both totally sealed.
The back office software can be used on most Windows based PC's with many features for total card management.
PDF docs of Paxton Access Control